The Annapolis Lacrosse Club (ALC) was formed to bring together friends, new and old.  We enjoy being part of the Annapolis area's rich lacrosse tradition.
 Formed in 2009 by a group of guys still holding on to the college lax dream, the club has evolved to be a family of Annapolitan players who work to build the lacrosse community in Anne Arundel County and beyond.  The ALC showcases some of the finest lacrosse talent from across the state of Maryland, including everything from Division III talent from the mid-2000s to recent Division I all-stars.  We are a diverse group, made up of coaches, professionals, party animals, fathers, and lax rats.  
Supported by its many local sponsors, the Annapolis Lacross Club competes in the American Lacrosse League (ALL).  We are based in Annapolis and play our home games at the Key School's beautiful waterfront fields, right next to the Hillsmere Shores community beach.  We are lucky enough to enjoy the support of our local community, friends, and families, and would like to thank you for all for your support.
Meet the Team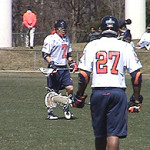 Contact Us
Want to Join? Interested in a Sponsorship? Drop us a line.